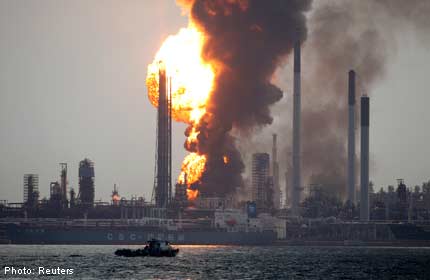 Thursday, Sep 29, 2011
SINGAPORE - Three more explosions were heard around Pulau
Bukom at 12 noon on Thursday as a fire continued to burn at Royal Dutch
Shell's largest refinery in Singapore.
According to news reports, the blaze has restarted and a fire ball
was seen shooting into the sky.
The Singapore Civil Defence Force (SCDF) confirmed that there has
been a surge in the fire at the manufacturing facility and it is still
contained within the bund wall.
SCDF also said that two of its fire engines were badly damaged by the
fire and one sustained partial damage.
RELATED STORIES
Hundreds of workers were reported to be ferried back to Singapore.
Some laboratory staff and executives are still at the refinery, but
their office is located far away from the fire, which is contained at
the pump room.
The fire started at the 500,000 barrel-a-day plant on Wednesday,
forcing Shell to close a hydrocracking unit that helps make diesel fuel,
as a safety measure.
"Fire-fighting operations are still underway," the Singapore Civil
Defence (SCDF) said in a statement early on Thursday.
"There are about 100 SCDF fire-fighters fighting the fire with six
fire engines and 13 support vehicles. About 250 essential Shell
personnel are also on Pulau Bukom."
Shell could not immediately be reached for comment. In a statement
issued earlier, Shell said the fire had been contained and that it had
accounted for all staff.
Crude processing units at the plant, which make up more than a third
of the island nation's total refining capacity, were running at a
reduced rate, Shell said on Wednesday.
Production units at the refinery near the blaze were shut as a
precaution. Shell said in the process of the closure a larger flare
would be visible. The flare was no cause for alarm, as no toxic vapours
were being released, Shell said.
One Shell firefighter suffered a superficial injury, and five others
had heat exhaustion and pulled muscles, it added.

---
Permissions in this forum:
You
cannot
reply to topics in this forum